Quelle Wireless Permanent Makeup Machine Pen E58
The universal PMU machine's system is versatile model. It offers the across-the-board permanent makeup treatment functionality and leading the beauty world of permanent makeup.
Most be loved wireless Permanent Makeup pen for its reliable results on ombre powder eyebrows, lip line, and eyeliner micropigmention treatment.

Features
17 level speeds adjustment fit to different PMU styles.

A powerful system that meets the demand of PMU.
Slim design perfect for detailed work.
Compatible with universal p

ermanent makeup needles

.
Features adjustable grip to regulate needle depth. Optimized needle penetration.
Wireless function for optimal connectivity performance.
Parameters
Stroke: 2.5mm 
Net Weight: 95g
Battery capacity: 600mAh
Working voltage: 4.5V-12V
Working Hours: 3.0h
Charging time: 1.5h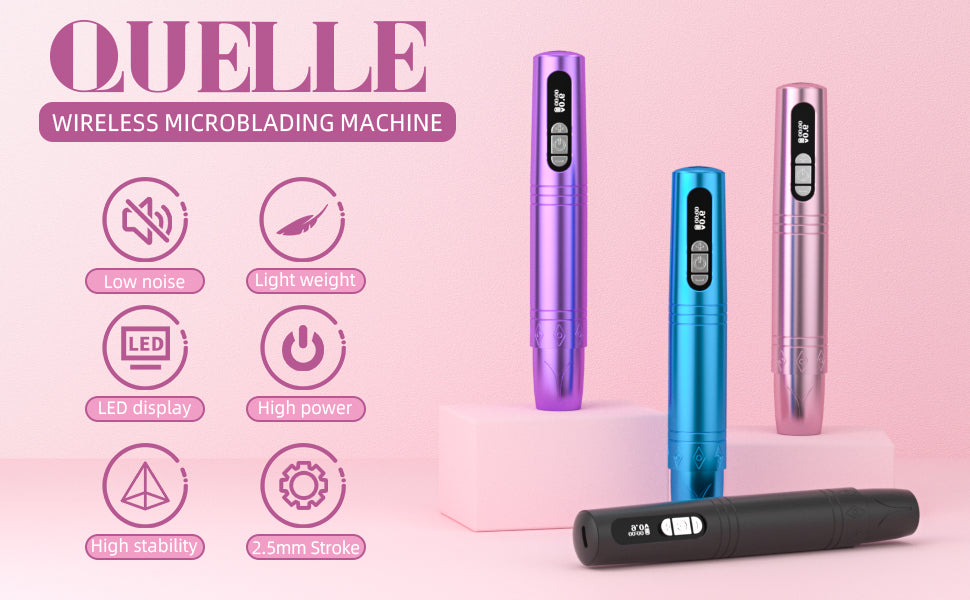 At CharmePrincesse®, we truly believe we are making some of the most innovative permanent makeup products - innovative PMU machines and needle cartridges in the world backed up by our high standards of quality and service. In the unlikely event that you don't have a positive experience for ANY reason, we will do WHATEVER we can to resolve your issue and to make sure you are 100% satisfied with your purchase. We back this up with a 12 month direct warranty service for all your pmu pens and other accessories purchased from us.
We pride ourselves in our excellent technical and after-sales service team, so when you have any questions, concerns, or even need recommendations, get in touch!
This can be done from our Contact us Page form, support email (sales@charmeprincesse.com), or you can reach out to us on social media (Facebook, Twitter, IG, etc). You can contact us anytime and we normally respond within a few hours and usually no later than 24 hrs.